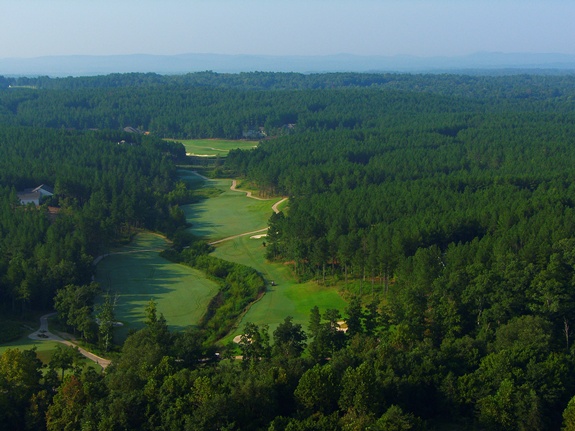 Even though many of our amenities in Hot Springs Village currently are closed, there are still things you can do while still maintaining the social distancing guidelines. Hiking our beautiful trails, including the John A. and Mildred B. Cooper Nature Preserve Trail, is a great way to get outside and get some fresh air. Of course you can't forget about your dog! The DeSoto Dog Park is open just be sure to follow all rules and guidelines.  Fishing on the lakes is also great way to experience the beauty of Hot Springs Village.  As a general rule be sure to call ahead to any faciliity or activity that you can to be sure that it is indeed open for your enjoyment. Please adhere to the requests to self isolate and stay home if you feel ill.
Golfing is still an option for the residents but there are some changes that will need to be adhered to. Obviously, be sure to keep the recommended 6 feet distance between all golfers both on the course and within your group. Because of the need to only have one rider per golf cart each course is trying to accommodate everyone as best they can in order to operate in the safest way possible. Please be patient with the workers as we strive for this. If you are using a cart they ask that you return your cart as soon as possible in order to make sure the carts can be cleaned and disinfected for the next golfer.  Unfortunately, all golf leagues have been suspended until the COVID-19 situation improves. Also a reminder to all residents that walking on the cart paths or on the course is not permitted when the courses are open. This is for your own safety as well as a courtesy to the golfers. 
Because of a recent announcement made by Governor Asa Hutchinson many local restaurants will be closed to dining in but they are continuing to provide take-out service. These restaurants will provide take out services and they are the Casa Coronado, Granada Grill, El Jimador, DeSoto Club & Grill, Mulligan's at Ponce De Leon, Raffaella Rose At Cortez, Fish on a Lake, Tanner's Neighborhood Bar & Grill, and the Home Plate Cafe. Be sure to call ahead to make your order and for menu information. Both the patios and dining areas are closed and orders must be taken from the restaurants at time of pick-up. 
After grabbing something to eat at one of our amazing restaurant facilities be sure to think about having a picnic at any one of our beautiful lakes or perhaps Balboa Beach and even at the Lake Lago Lookout. Keep in mind that these new social distancing recommendations still apply. Also it is wise to wash your hands regularly especially after touching surfaces that are used by many. 
Some facilities and amenities have been adversely affected by COVID-19 and are closed for the time being. The pickleball and basketball courts, the Desoto Marina, Coronado Fitness Center, Coronado Community Center, Woodlands Auditorium and the Ponce de Leon Center have all been closed. 
Certain facilities and amenities are open but there may be changes to how things usually work because of COVID-19 guidelines so please check with each before heading out. Golf, as mentioned before. along with the tennis courts and miniature golf should be used while using appropriate concern and cleaning processes. Trails and Lakes should be used while keeping appropriate distance. For any non-emergency concerns dealing with the Police and Fire Station please contact by phone.The Administration Building will be by appointment only at this time so please call ahead. 
For any updates please check out the Property Owners Association website dedicated to announcements about COVID-19 at https://explorethevillage.com/members/hsv-covid-19/ .