Hot Springs Reservation, the first designation of Hot Springs National Park, was set aside by Congress in 1832. This makes Hot Springs National Park the oldest unit in the national park system, 40 years older than Yellowstone National Park.
The hot springs flow from the western slope of Hot Springs Mountain, part of the Ouachita Mountain range.
Visit the Ouachita National Forest and enjoy camping, hiking, biking, scenic driving, trail riding, water recreation, fishing, hunting, and all the wonderful scenery and recreational opportunities this national treasure offers.
Experience unique botanical, mineral, and prehistoric resources featured in information and educational programs.  Visit Ouachita National Forest's recreation pages to learn more about the many outdoor recreation opportunities.
Photo Author Tiffani Sineath from Shreveport, LA, USA
Lake Ouachita is the largest lake in Arkansas with a total water and land mass of  62 square miles with 970 miles of some of Arkansas's most pristine shorelines.      See map of Lake Ouachita.
A favorite of sailors for its vast stretches of open water, and scuba divers for its clear waters, Lake Ouachita offers recreational boating, water skiing and other water sports, more than 100 uninhabited islands for primitive camping, and houseboats, sailing crafts, and fishing rigs to rent. 
Lake Ouachita is well-known for its prolific fishing opportunities, especially for striped bass and largemouth bass fishing, and consistently ranks in the top 10 lakes nationally for largemouth bass fishing.
Learn more about Lake Ouachita.
Garvan Woodland Gardens, nestled in the picturesque Ouachita Mountains, is a botanical garden of the University of Arkansas.  The gardens provide visitors with a place of learning, research, cultural enrichment, and serenity.
View the Visitor's Guide for hours of operation, membership & visitor fees.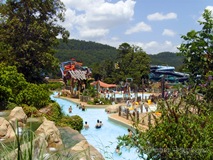 The park includes rides for the entire family and a cool and refreshing water park, as well as concerts at Timberwood Amphitheater.
Oaklawn has a rich history, beginning with its first race on February 24, 1905. Since then, Oaklawn has evolved into one of the premier race meets in the country.
Best known as the home of the Racing Festival of the South and Arkansas Derby, Oaklawn has played host to some of the biggest names in the sport.
Visit Oaklawn's official website for events and information.