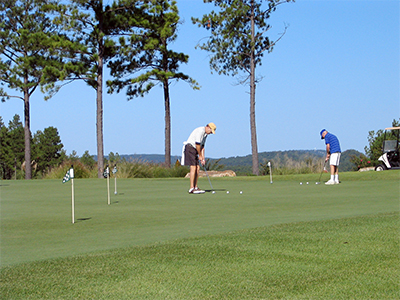 Hot Springs Village Golf Courses will be playing host to some fun and exciting golf events this coming June. Both the "Denim and Diamonds" Couples Invitational Golf Tournament and the Short Game Skills Challenge will occur in the span of just a few days. The events shine a light on just how desirable the golf atmosphere is here in the Village. Participants will be able to sample some of the amazing golf courses Hot Springs Village has to offer. 
The "Denim and Diamonds" Couples Invitational Golf Tournament will span June 3rd through June 5th and will highlight four courses (DeSoto, Pounce de Leon, Cortez and Balboa) with each team playing a different course each day. Entry deadline is May 15th so act fast if you are interested. Registration is open to both Hot Springs Village Members as well as Non-Members but is limited to 120 couples. As a bonus discounted practice rounds are available both Jun 1st and June 2nd so be sure to take advantage of those options as well. The Tournament will have cash prizes all three days with optional opportunities also available upon registration. Lunch will be provided all three days with scheduled dinners occurring Thursday and Saturday. Saturday night will be the Awards Night with live music as well. For more information you can call Dawn Johnson at 501-922-5540 or email at dawnjohnson@hsvpoa.org. For a link to the registration form and some additional information concerning the scheduling of events click here. 
On Monday, June 7th, you can participate in the Short Game Skills Challenge happening at the Magellan Golf course from 11 a.m to 4 p.m.. There will be a total of eight challenges that will test all the aspects of your short game. A number of other golf and non-golf challenges will be available to participate in with all net proceeds benefiting local student scholarships. A Ball Drop, Silent Auction and guessing how many tees are in a jar are among the events designed to help The Rotary Club of Hot Springs Village along with the POA Gold Department and Golf Committee to raise money for this cause. For more information regarding the event contact Okey Bess at 501-984-2460 or email at okeybess@gmail.com. 
The Golf Ball Drop will occur towards the end of the Challenge and there will be a maximum of 1,500 chances sold for the event. For more information or to buy tickets regarding the Ball Drop you can contact your local Rotarian, or call Dean Winter at 320-420-2299 or Kim Winter at 320-420-2296. 
Good Luck to all participants!