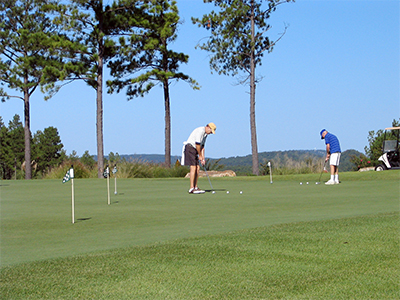 In the current issue of Alabama Golf News there is an article that highlights Hot Springs Village and it's amazing golf courses. In the article "Hot Springs Village: A Slice of Paradise in Arkansas" by golf travel writer Gregg Dewalt he gives a nice overview of both our public and private golf courses as well as how Hot Springs Village shines among gated communities. The article features many first hand accounts of how Hot Springs Village is the place to be for not only the golf courses but the quality lakes, nature trails and other amenities that the Village has to offer. 
Hot Springs Village is no longer exclusively a retirement community for a small southern market. In recent years people of all ages are finding interest in the Village and they are originating from Eastern and Western states. Arkansas boasts a low cost of living and couple that with the more than 200+ clubs and organizations that cater just about every hobby or interest you have a unique community that anyone can find their place in. A lot of people also take advantage of being able to rent properties as vacation homes to be able to experience the golf courses, 20+ miles of nature trails, as well as fishing in the 11 pristine lakes. 
If you are interested in buying a property in Village please check out Century 21 HSV Realty for all your buying and selling needs.