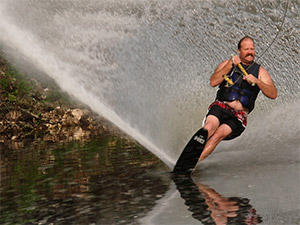 Ahh!  Late spring/early summer in Hot Springs Village is glorious!  Time to sharpen your water skiing skills on one of our beautiful lakes.  Before you venture out, make sure you're following the basic safety rules of water skiing.
Skiers must wear life jackets . . . no jacket is not an option.
Put up the orange flag so other boaters know you have a skier behind you.
Always have a 3rd person on the boat to watch the skier, even if you have a rear-view mirror.
Know where potential dangers are in the water before you venture out,
Never ski when visibility is bad, if it's starting to get dark, or it's foggy.
There are lots of rules and laws governing water skiing.  Be sure you are familiar with all the rules of the lake and you learn what to do to ensure other boaters can see you in the water when you're down.  
Most of all . . . have fun!